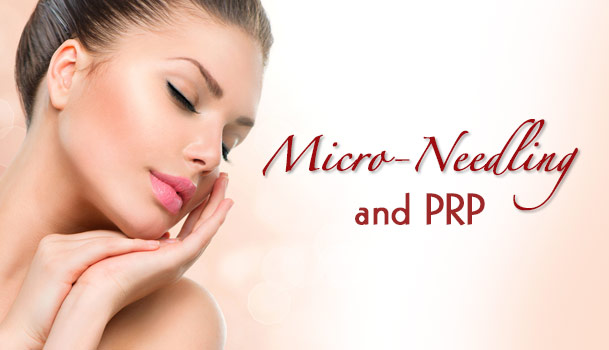 Micro-Needling and Micro-Needling with Platelet-Rich Plasma (PRP),
now in Ventura County!
PRP (Platelet-Rich Plasma) are the cells in blood responsible for healing the body from injuries. These cells can be drawn, isolated via centrifuge, and injected into the desired treatment area to achieve results such as reduced fine lines and wrinkles, restored volume, and diminished acne scarring. This treatment can also be used on the scalp to address hair thinning.
MicroPen is a treatment used to create controlled micro-injuries in order to stimulate the skin's natural repair process, resulting in softer wrinkles. This process also creates micro-channels that can be used with topical gels, creams, serums, and PRP to improve the appearance of the acne scarring. Results vary depending on the treatment area.
In more details...
These are 2 distinct procedures, both using a MicroPen with many tiny needles.
During both procedures, the Eclipse MicroPen is used to create controlled micro-injuries to the skin in order to naturally produce collagen and elastin. With Micro-needling with PRP, a small blood sample is taken from your own body and the PRP is separated from the other components. The PRP is then topically applied to the skin immediately following a micro-needling procedure. The micro-channels created by micro-needling provide direct pathways to the deeper layers of skin for optimal wound healing. PRP releases growth factors into the skin to expedite the body's own repair process and stimulate new collagen and elastin. Micro-needling and micro-needling with PRP are the ideal treatments for younger looking skin, smoothing fine lines, wrinkles, and scars.
MicroPen or Micro-Needling (without PRP)
(also known as Collagen Induction Therapy or CIT) is a new innovation in aesthetic medicine for treating the appearance of fine lines, acne scars and improvement of the skin's overall appearance. During this procedure, the Eclipse MicroPen is used to create controlled micro-injuries to the skin in order to naturally produce collagen and elastin. The skin's repair process results in improvement of the appearance of softer wrinkles. Micro-needling also creates superficial micro-channels which can be used with topical gels, creams and serums to help improve the appearance of the epidermal layer of the skin.
How Is MicroPen Different From Dermal Needling Rollers?
Micro-needling devices move in a vertical direction for better precision when treating the skin. Unlike Micro-needling, the roller does not create a precise vertical action. The lack of precision can contribute to greater discomfort and inconsistent effects to the skin.
How Is MicroPen Different From Lasers?
Unlike lasers, Eclipse MicroPen breaks up pigment mechanically and stimulates the collagen formation without heat. Removing heat from the equation makes for a safer, more comfortable treatment with a very low complication rate. No heat also equals less downtime! Most Eclipse MicroPen® patients are red for 24 hours or less. That advantage means you can get the procedure performed on a Friday and be back to normal for work on Monday.
Gorgeous Skin with with Micro-Needling and PRP
New Revolutionary Treatment used by many Hollywood Stars
What is PRP and Eclipse Micropen?
PRP comes from, you've guess it... your own blood! Blood is composed mainly of red blood cells, white blood cells, Platelets and Plasma. So what's so important about the Platelets and Plasma? The platelets in our blood are cells designed to heal injuries. In concentrated form the platelets can be used to help heal those injuries. For years, athletes, dentists and reconstructive surgeons have been injecting the PRP into joints to help speed up the process of healing. Now the benefits are being applied to other fields of medicine such as natural medical aesthetics.
Effects and Benefits:
Reduces fine lines and wrinkles
Tightens and tones the skin
Replaces lost volume
Reduces crow's feet & dark circles under the eyes
Diminishes acne scars
Adds a more natural effect with dermal fillers
The potential benefits of PRP have led to a recent widespread interest in its use for anti-aging and regenerative purposes. The platelet rich plasma helps you look younger without injecting artificial substances into your body. In fact, the treatment uses your body's own blood to regenerate and tighten your skin.
How does Dr. Hanna obtain my PRP?
Dr. Hanna will collect about a vial or two of blood from your arm. He will then place the collected blood vials in a centrifuge. The centrifuge spins and separates the platelets and plasma from the rest of the blood components. After the centrifuge is done, the extraction of the platelet rich plasma takes place.
Micro-Needling with PRP Procedure
Application of the PRP is used along with the Eclipse Micropen™. The MicroPen contains a sterile needle tip comprised of 12 tiny micro-needles, used to create controlled micro-injuries to the skin in order to produce collagen and elastin. A thin layer of topical gel will be applied to your skin and the appropriate treatment depth will be selected based on your needs.
What areas of the body can I treat?
Areas to be treated include face, neck, decollete, arms, hands, legs, abdomen and back. The device can also be used on the scalp to treat hair thinning.
How long the procedure take?
The procedure takes 15-30 minutes depending on the size of the area treated.
What does my downtime look like?
Immediately after the treatment, you will notice a bright redness to the skin. The total healing time will depend on the depth of the needles used and the number of overlapping passes. On average patients are red for 2-4 days, but some may heal completely in 24 hours.
When will I see results?
You will notice an immediate "glow" to your skin while visible changes will develop over the course of several weeks. Dr. Hanna recommends most patients to receive a series of 2-3 treatments spaced about 6-8 weeks apart. For deeper wrinkles, advanced photo-aging, stretch marks or acne scars it is recommended to receive 6-8 sessions at 6-week intervals.

PRP for Hair Restoration
Using PRP for Facial Augmentation
PRP can also be used for facial augmentation. Please watch this video. It demonstrates using the PRP for facial augmentation. Dr. Hanna uses PRP as a facial filler to add volume to the face.